50th Probability Summer School
Saint-Flour (France), 11 - 23 July 2022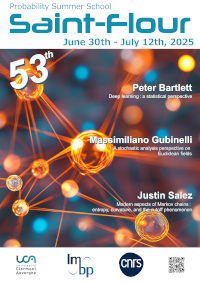 Founded in 1971, this school is organised every year by the Laboratoire de Mathématiques Blaise Pascal (UMR 6620). It is supported by Clermont Auvergne University, the European Mathematical Society and C.N.R.S.. It is intended for PhD students, teachers and researchers who are interested in probability theory, statistics, and in applications of these techniques.
The school has three main goals:
to provide, in high level courses, a comprehensive study of a field in probability theory or statistics;
to enable the participants to explain their work in lectures;
to facilitate exchanges between the participants.
The lecturers are chosen by the Scientific Board of the school.
Lectures are published by Springer in the Lecture Notes series and videorecorded on YouTube.